Quality Standard & Miniature Poodles
NO litters planned for 2023
My breeding philosophy.
Celeto Poodles is dedicated and devoted to raising high quality AKC poodles with proper conformation, good health and even temperaments. Our goal is to breed poodles that excel in conformation, obedience, agility, as well as, loving companions for your family. We produce puppies in sold colors of white and black. When you purchase a Celeto Poodle, you become part of our extended family; and we are available to our families for the lifetime of our puppies. Should you ever have questions regarding diet, vaccinations, house breaking, crate training, grooming...anything we can assist with, we will. We are always interested in how our puppies are doing and love to receive updates and photos of our babies as they grow up; along with brags about their accomplishments and titles.  All of our puppies leave well-socialized,  introduced to crate training and potty training, fully groomed, vet-checked, all vaccinations appropriate for their age at delivery, dew claws removed and tails docked.

Celeto poodle puppies are beautiful, smart and have wonderful temperaments. They are fun, friendly, intelligent and make wonderful family companions. Potential buyers are screened to help ensure a good match is made between the owner and new puppy; while also understanding the responsibility of owning a Celeto poodle. A non-refundable $500 deposit is required to hold a puppy. A separate agreement, signed at the time you pay in full and pick up your puppy, includes a 72-hour health guarantee and a 3-year genetic health guarantee.  All puppies sold as companion pets are sold on AKC spay/neuter contracts.  We prefer that you personally pick up your puppy, however if you need to fly here, the puppy can to fly with you underneath the seat. All travel expenses are in addition to the purchase price. We do not ship puppies.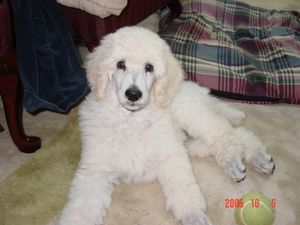 Home Raised
 
Our puppies are much loved members of our family and raised in our home. All Celeto puppies are bred to be show quality; however, that does not mean they all will go to show homes. Usually, only one or two puppies from a litter will go to the show ring; where the rest of the litter will be quality puppies in loving pet homes. Placing our puppies in forever loving family homes is our top priority. We breed for type, health and temperament for both show and companionship from well known champion lines. While obtaining Championship titles is important to us, our priority lies with the temperament and health of our dogs.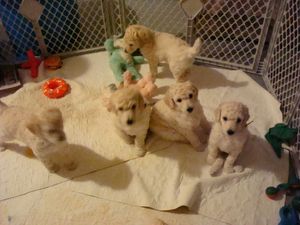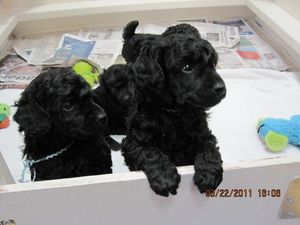 Celeto poodle puppies are available only occasionally, as we breed on a limited basis. When you purchase a Celeto puppy you will be getting a poodle puppy that has been raised in the home, is well-adjusted, and will move effortlessly into your home & hearts. Our puppies are handled on a daily basis from the day they are born.  During their neonatal period we do early neurological stimulation to help the puppies have stronger heart beats, more tolerance to stress, and greater resistance to disease.  We help enrich their minds and bodies through puppy culture and avidog with early exposure with our "adventure box", agility equipment,  exposure to our safe outdoor environment until they leave us for their forever loving families. All of our puppies are well socialized with people of all ages.  We do our best to prepare your new family member to be a confident, well adjusted pup through socialization and exposure to different situations, sounds and stimuli which is importance for our puppies development of sound mind and body. Please see the two links below on how we evaluate and choose puppies.  I am also a Good Dog breeder.  Good Dog helps to connect vetted good breeders with well informed prospective puppy owners. By combining Avdog's science-based curriculum with Good Dog; they have joined forces to empower dog breeders and puppy buyers with support and education on dog breeding, raising, and care, to bring out the best in every dog and puppy, and improve the health and happiness of generations of dogs to come!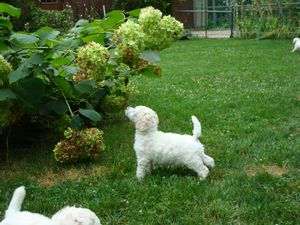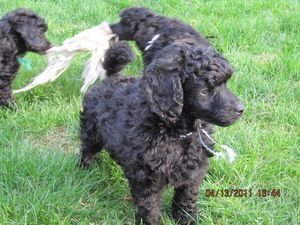 Our puppies remain in our home until nine weeks old. We keep the puppies' play area neat and clean, which teaches the puppies from an early age to be clean and not soil where they sleep, eat, and play. Starting around 4 weeks of age, the puppies are taken outside to play for short periods of time. During this time we  work on basic potty training through helping puppies associate going outside with going "potty," which helps their natural desire to keep their sleep and play areas clean so by the time you get a puppy from us, they have a great start to being potty-trained. Also starting around 4 weeks of age, we introduce them to weekly grooming, which consists of bathing, blow drying, clipping nails, shaving faces, feet, and base of tails. Early grooming helps teach the puppies to learn to enjoy the grooming process as it is a big part of a poodle's life. We expect our new families to continue with grooming every 4-6 weeks. Poodles require regular grooming their entire lives- it's their spay day!!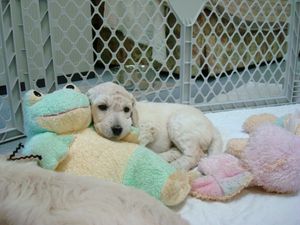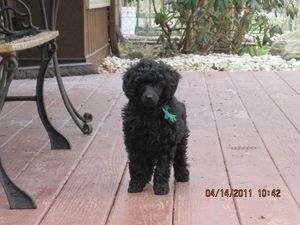 Health
 
As dedicated & ethical breeders of poodles, we stress the importance of all genetic health testing to insure that our prospective parents are in good health.

The standard poodle gene pool has health risks that need to be heavily considered prior to breeding. All adults are certified free of hip dysplasia by the Orthopedic Foundation for Animals (OFFA). They receive eye exams by a veterinarian who is board certified by the American College of Veterinary Ophthalmologists (CERF). Our Standard poodles are tested for Sebaceous Adenitis (SA) & thyroid function.  We also use the only DNA tests that are currently available for our breed, Von Willebrand's disease (Vwd), Neonatal Encephalopathy (NEwS).
The miniature poodle also has health risks that also need to be examined prior to breeding. Our miniature poodles are certified free of Patellar Luxation and Hip Dysplasia by the Orthopedic Foundation for Animals. They also receive eye exams by a veterinarian who is board certified by the American College of Veterinary Ophthalmologists. We also use the DNA test for Progressive Retinal Atrophy (PRA) to ensure that puppies will not ever become affected with this disease.  Our Miniature Poodles are also tested normal for the Osteochondrodysplasia (dwarft gene).  This is our way of being a responsible breeder.
Think ahead to 10-12 years and the importance of choosing a puppy whose ancestors have been screened for common health issues which have a genetic basis. There are no complete health guarantees in life, and even with all our testing, sometimes problems may occur. If a problem does occur; with your poodle at any time in it's life, please contact us so we can be aware of health issues in our line.  If a breeding Celeto Poodle ever has any health problems, they will be spayed or neutered and all puppy buyers will be notified if a potential health issue could be passed on to their puppies. AKC registration simply means the sire and dam of your Standard or Miniature Poodle are the same breed. It does NOT guarantee health, temperament, structural soundness or breeding quality. The very best source of a healthy, well-socialized, quality poodle puppy is from a conscientious breeder with a long-term commitment to the breed and a reputation to uphold.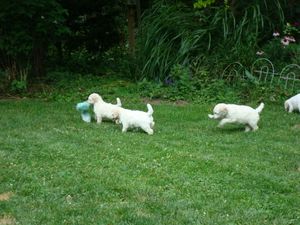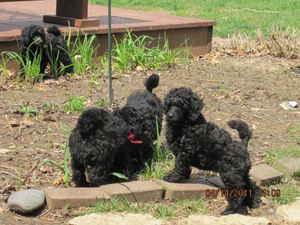 W
e firmly believe that nutrition is a vital component to the longevity and quality of life.  We feel strongly that a species-appropriate natural raw diet is the foundation of which good health is built.  We understand that the type of food we choose to feed our beloved poodles has the potential to either heal or harm them; depending on the type and quality.  This is why all of our poodles are fed a species appropriate raw diet. They do not eat any by-products, corn, wheat, soy, or preservatives; and have a grain-free diet.  A species-appropriate natural raw diet contains high quality protein as well as moisture. The protein is necessary because dogs are carnivores. High moisture content is required in order to prevent organ dysfunction, including kidney failure. Dogs are designed to eat food that is about 70 percent moisture, which is what a raw diet provides. Dry kibble food diets, contain only about 12 percent moisture instead of the 70 percent our dogs bodies need.  Dogs on dry food diets live in a state of chronic, mild dehydration, that over a life time can cause significant stress to their organs. By feeding a superior diet, we can drastically minimize many health issues.  We see better coats, great energy levels, less & smaller stools, proper weight, and most of all, poodles that are happy, healthy and thriving. Please visit my
Raw Diet
page for more information.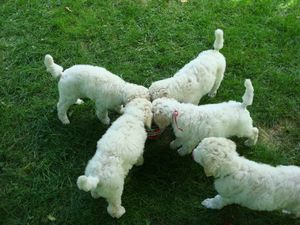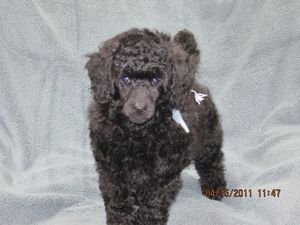 Please click the link to view the video
O
ur puppies and adults only receive minimal vaccinations. In order to ensure that our puppies are properly immunized and able to be socialized away from home as soon as safely possible, we run a maternal nomograph during pregnancy through Dr. Schultz' lab at the University of Wisconsin. 
Avidogs Canine Nomographs ebook
  This uses the dam's distemper and parvo titer levels to more accurately predict when the maternal antibodies that are passed on to the puppies will be low enough for vaccination to be effective. We believe that proper timing of vaccinations is crucial to avoiding over vaccination, as well as,  protecting our puppies so they can be safely socialized. Poodles are a vaccine sensitive breed and can develop auto immune diseases if given too many vaccines all at once. 
Over vaccination has been proven to be immunosuppressive and can cause serious and life long damage to your dog's immune system. The veterinary community has agreed that annual re-vaccination is un-necessary and this information is now being taught in veterinary programs throughout the U.S.A. where they have changed their protocols. Our poodle puppies receive the core vaccines parvo, distemper and rabies at age appropriate times. Over-vaccination is an ongoing problem, however, providing baseline protection (two puppy vaccines) against parvo provides your pet with lifetime immunity – and provides you with peace of mind. The protocol we follow in vaccinating puppies against parvo (the vaccine protects against all strains) is a parvo/distemper shot at 12 weeks of age, depending on the dam's antibody results, and a booster at about 14-16 weeks and again at 1 year. We then titer between 2 to 4 weeks after the second shot to insure the puppy was not only vaccinated, but immunized. This is a core vaccine protocol that provides the basic minimum number of vaccines to protect against life threatening illnesses, without over vaccinating. We encourage puppy buyers to give the Rabies vaccine at 5-6 months of age and then not more than every 3 years as required by law. Rabies vaccine should be given according to your state's laws BUT SHOULD NEVER be given on same day as other vaccines, it is best to have four (4) weeks difference between vaccines.  We follow 
Dr. Jean Dodd's vaccination protocol
.
A Titer test is a measurement of the amount of antibodies in the blood. The test to measure antibodies is usually performed by making a number of dilutions of the blood and then measuring at what dilution there is sufficient antibody to react in the test. For example, a titer of 1:8 (one to eight) means the blood can be diluted to one part blood and seven parts saline and still produce a positive reaction in the test. The higher the titer (1:16 is higher than 1:8), the more antibody is present. (NOTE: The word 'titer' may also be used when discussing the amount of antigen present, e.g., a high titer vaccine has a large number of virus particles.)
Here is an excellent article on taking out the risks of vaccines written by Dana Scott of Dogs Naturally magazine.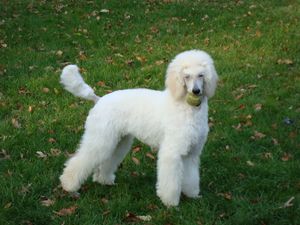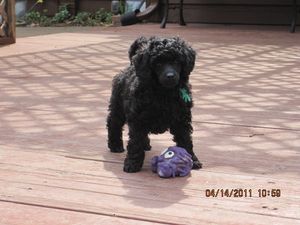 Poodles are known as healthy, sound, intelligent, fun-loving and wonderful companions. Our puppies are carefully matched to new puppy owner's lifestyle. Our pet poodles are sold with AKC limited registration and spay/neuter (non-breeding) contracts. Companion pet puppies can still participate in a wide range of AKC activities including obedience, rally and agility. Show puppies sold by private treaty.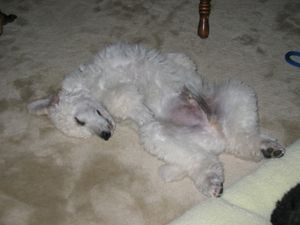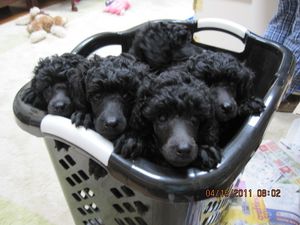 Many people feel that "pet" means poor quality. There should be little difference between dogs that are shown in the conformation ring and those that excel in obedience, agility, or as the household companion. There is a 'standard of the breed' and we strive to create the most perfect dog possible, whether they enter the show ring, or just are just the family pet. Granted, there is no perfect dog, but that is always our goal. Most times there are only minor detailed differences between the show potential puppy and the companion pet puppy. Our pet puppies are just as beautiful, fun-loving and healthy as our show puppies.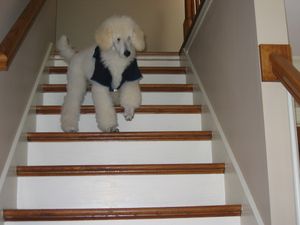 When purchasing a Celeto Poodle you become part of our extended family! Letting puppies go to  new homes is difficult for any serious and dedicated breeder. We care deeply and love every puppy that we bring into this world. We invest much of ourselves into the puppies we breed, care for, and raise. We are here for and encourage our new families to stay in touch with updates on their puppy's progress throughout the puppy's life time with e-mails, photos, and visits. We thank all of our puppy buyers for providing wonderful loving homes to our precious babies.
If you are interested in adding a Celeto poodle puppy to your home, please contact Liz at
st_poodle@yahoo.com
or fill out our puppy application below.
If we do not have puppies available we will be happy to put you in touch with an ethical and responsible breeder who may.