Can I Pick Out My Own Puppy?
Many of our waiting puppy buyers ask us if they will be able to pick out their own puppy from the litter. Since we take the placement of each puppy into it's new family very seriously and want the 'perfect' match, the answer is most often 'no'.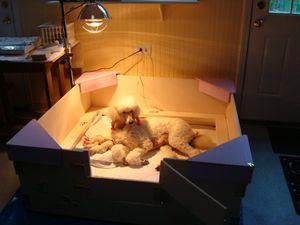 A breeder spends a lot of time with a litter of puppies. From day 1 we are with the puppies 24 hours a day, 7 days a week. We watch them grow and develop their own little personalities and watch them interact with each other and with their mother on a regular basis. We are able to observe a litter of puppies at different times of the day and in different situations. Nobody knows each individual puppies temperament and personality better than the person responsible for their care for the first 8 weeks of their life.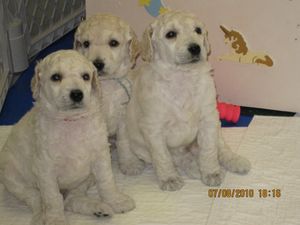 We ask all potential puppy buyers to fill out our 'Puppy Application' which allows us to get to know each family a little better. By filling out this application puppy buyers are helping us to get a feel for what their families lifestyles are and what types of characteristics they are looking for in their new puppy. An active, young family is more likely to be looking for an outgoing, energetic puppy that can keep up with their busy lifestyle while an older, retired couple may be looking for a more laid back, calm puppy.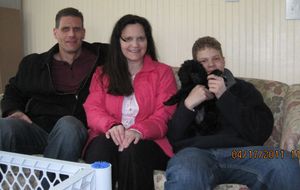 Puppy buyers will often come to visit a litter before the pups are ready to go and they will see the puppies for maybe an hour or two . These short visits are fun but are not enough time for a family to really get a feel for each individual puppies personality or to know which one would best fit into their household. Sometimes, depending on the time of day and circumstances, the more high energy puppy in a litter might be tired or having a quiet day when a family comes to visit. A family looking for a quiet, more laid back puppy might mistakingly think that this puppy is the right one for them and if they were given the choice, they might very well have chosen to take that particular puppy home only to find out a day or two later that the puppy they picked was not so laid back after all! The same can be said for the quiet , laid back puppy who is having a busy or high energy day when a family comes to visit. A family looking for a pup that is full of energy, a puppy that will keep up with their families busy lifestyle, might choose this puppy and later on find out that it might not have been the perfect match for their active lifestyle.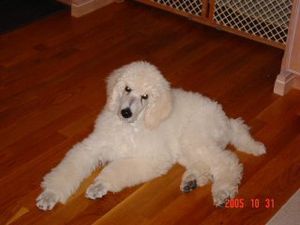 It is very important to us that each puppy is matched with the right family. We want our puppies to be happy and for their new families to enjoy their new puppy for many years to come. For this to happen, we need to make the best match possible between puppy and new family. We take this matching process very seriously . We have a very good track record for making the right choices in matching puppies with the right families! Our new puppy families always feel that they have been given the perfect puppy and we get many updates and reports to support this fact. So we ask all our puppy buyers to trust in our ability to choose the puppy that is going to best fit into their family and who is going to bring many years of joy to their lives. Please read our 'Puppy Evaluation and Selection Process' page for more details.