About Us
Hello & welcome to Celeto Standard and Miniature Poodles. We are a small family oriented breeder of AKC standard and miniature poodles.  Our kennel name is the combination of letters from our standard foundation female "Celeste" & our first show dog standard male "Toby", thus Celeto Poodles.

As the youngest of three children, family pets have been part of my life for as long as I can remember. Growing up, we had miniature poodles, poodle mixes and several mutts, along with many beloved cats, several gerbils and fish. We brought home our first standard poodle, a brown girl, Coco, in 1984 when I was just eight years old. We took her to our local dog training club where she excelled in obedience training. Coco was so patient, loving and loyal with us as we would dress her up, brush her ears, take her for walks, and play with her in the backyard. She remained our loyal family pet & constant companion until her death at 14 years old. Although Coco was not show quality, she is the reason we fell in love with the standard poodle. We also had a beautiful black miniature poodle, Ebony, who remained my mom's shadow and stayed by her side for 16 wonderful years. With the passing of Coco & Ebony we began our search for our next family companion to help mend our broken hearts.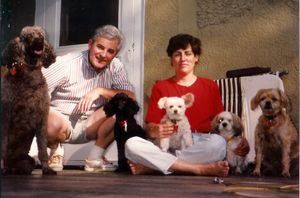 Dogs L-R: Coco, Ebony, Buffy, Ping, Oscar 
In 2001, "Jazzy", Safari's Lil' Bit Of Chocolat, CGC; our beautiful black standard, joined our family. Jasmine was not only top dog at our house, leading in a gentle yet firm manner; but also our "heart dog". She successfully completed obedience beginners' class, advanced beginner's class and easily earned her canine good citizen award on May 13, 2004. Jasmine brought such joy & happiness to our family we knew we had to bring her sister, Sophie, home in 2003. Sadly, we lost our precious Jazz April 15, 2008 to mast cell carcinoma.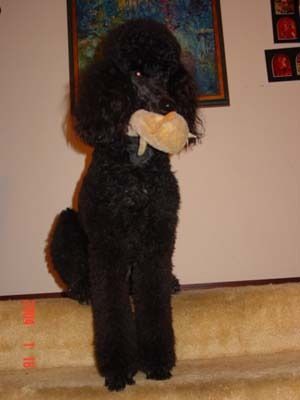 ---
Our introduction to the conformation show ring was with my handsome white standard male "Toby", AM. CH. Safari's Puttin' On The Ritz; who joined our family in 2005. Toby enjoyed the show ring and all the attention; thus, the show bug bit!! Toby continues to make us laugh and smile daily, with his enthusiasm for life and the world is his oyster! He is a true ambassador for the breed. He has never met a stranger and loves everyone.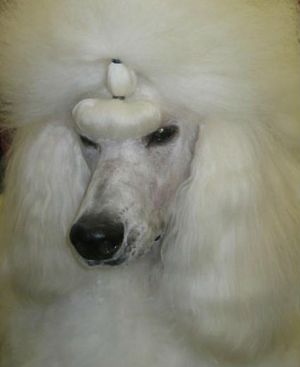 ---
Celeste
, AM. CH. Pave' Diamond in the Sky, joined us in August of 2007;  bred by Bonnie Weyrauch of
Pave' poodles
.  We thank Bonnie for entrusting this stunning white bitch to be the foundation of Celeto Standard poodles. Celeste is a fun-loving & a very sweet natured girl.  She produced a beautiful litter of outstanding puppies in 2010. From that litter we kept Lucy, Celeto's I Love Lucy.  Thus our standard poodle breeding program was born!!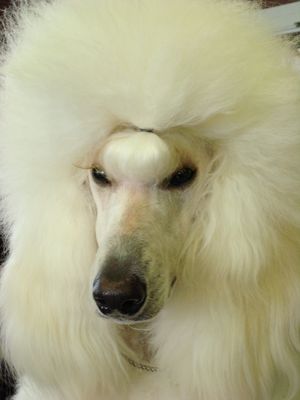 ---
Our beautiful white miniature "Tillie", AM. CH. Deagra Divine Who's Foolin' Who; came to us from Denise Agre-Gill & Matthew Hougland. Tillie is a beautiful sound bitch with an outgoing and fun-loving temperament. She finished her American Championship easily as a 10 month old puppy. We would like to thank Denise & Matt for breeding such a beautiful girl and allowing her to be a part of our family.  Tillie produced a lovely litter of gorgeous puppies in 2011 and our first two home bred miniature champions! With 5 Champion offspring, Tillie has earned Top Producer status of Champion get.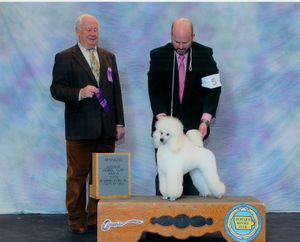 ---

We strive to breed dogs of the highest quality. Proper conformation, good health, and even temperaments are our goals. We take breeding very seriously and every litter is planned with quality in mind.  We are proud of our dogs' lineage and hope to continue that success to better the breed. All of Celeto puppies are bred to be show quality; however, that does not mean they are all required to go to show homes. In fact, most of our puppies are placed in loving pet homes. We prefer finding good families rather than gaining championships.

Thanks for reading!! 

Celeto Poodles
Liz & Jane Newby
St. Charles, Illinois
U.S.A.