Celeto Miniature Poodle Puppies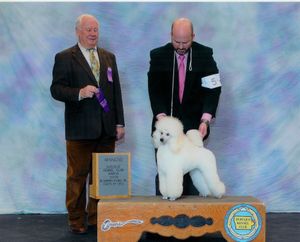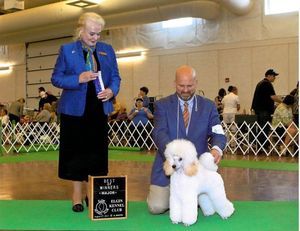 Please visit  Can I Pick Out My Own Puppy? for information on how puppies are sold.

Please fill out our Puppy Buyer Application if you are interested in a puppy.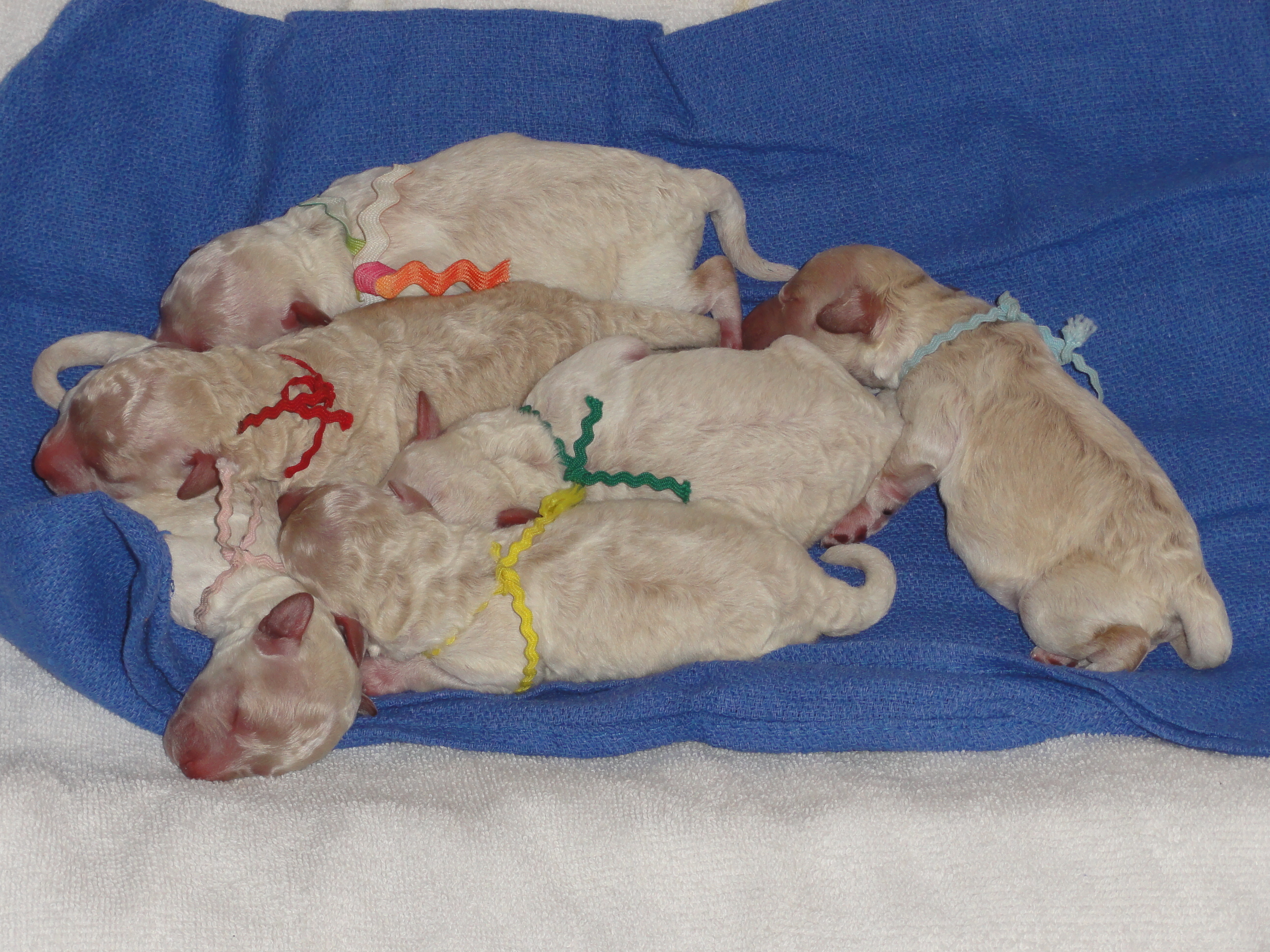 4 days old!!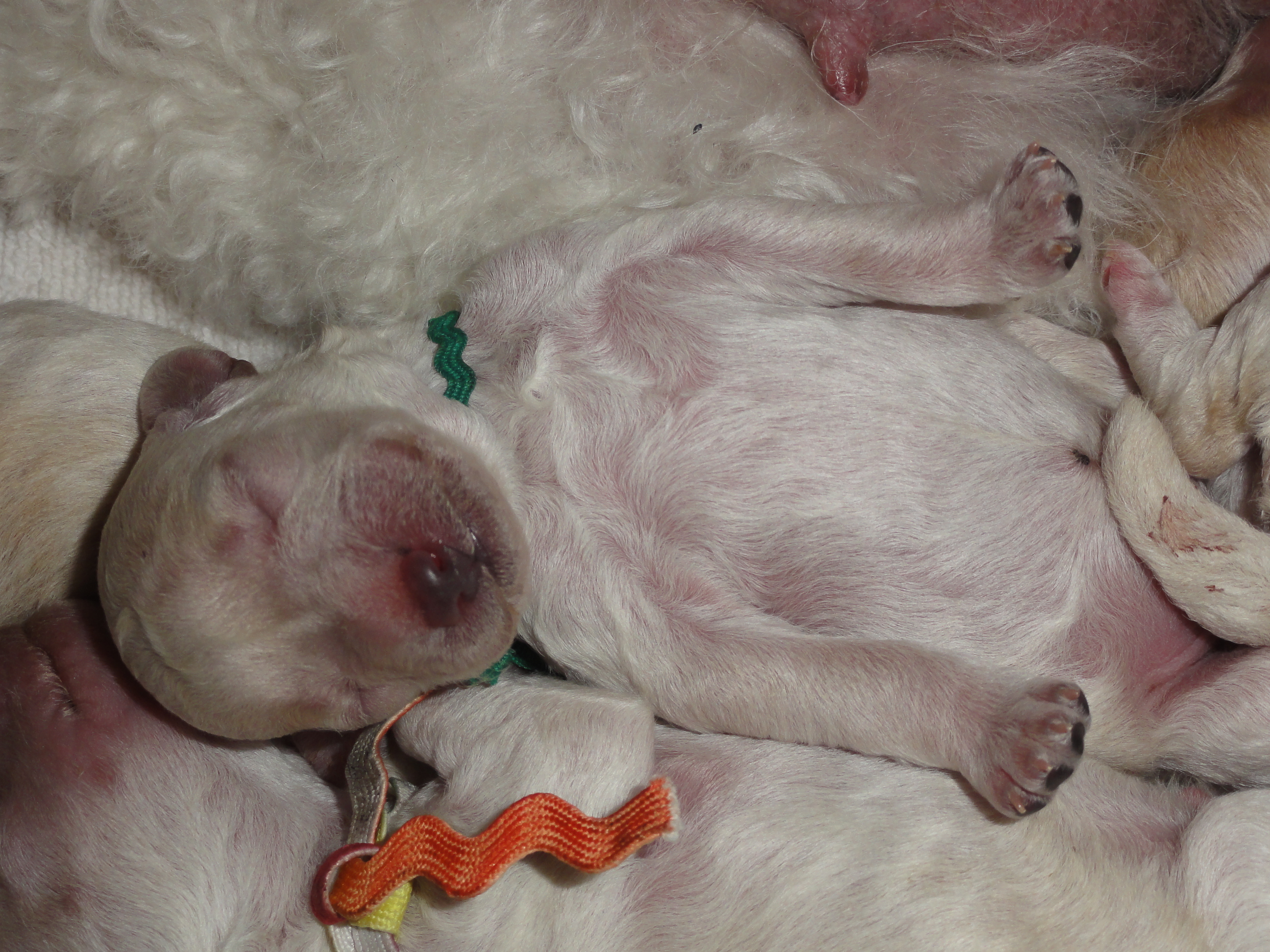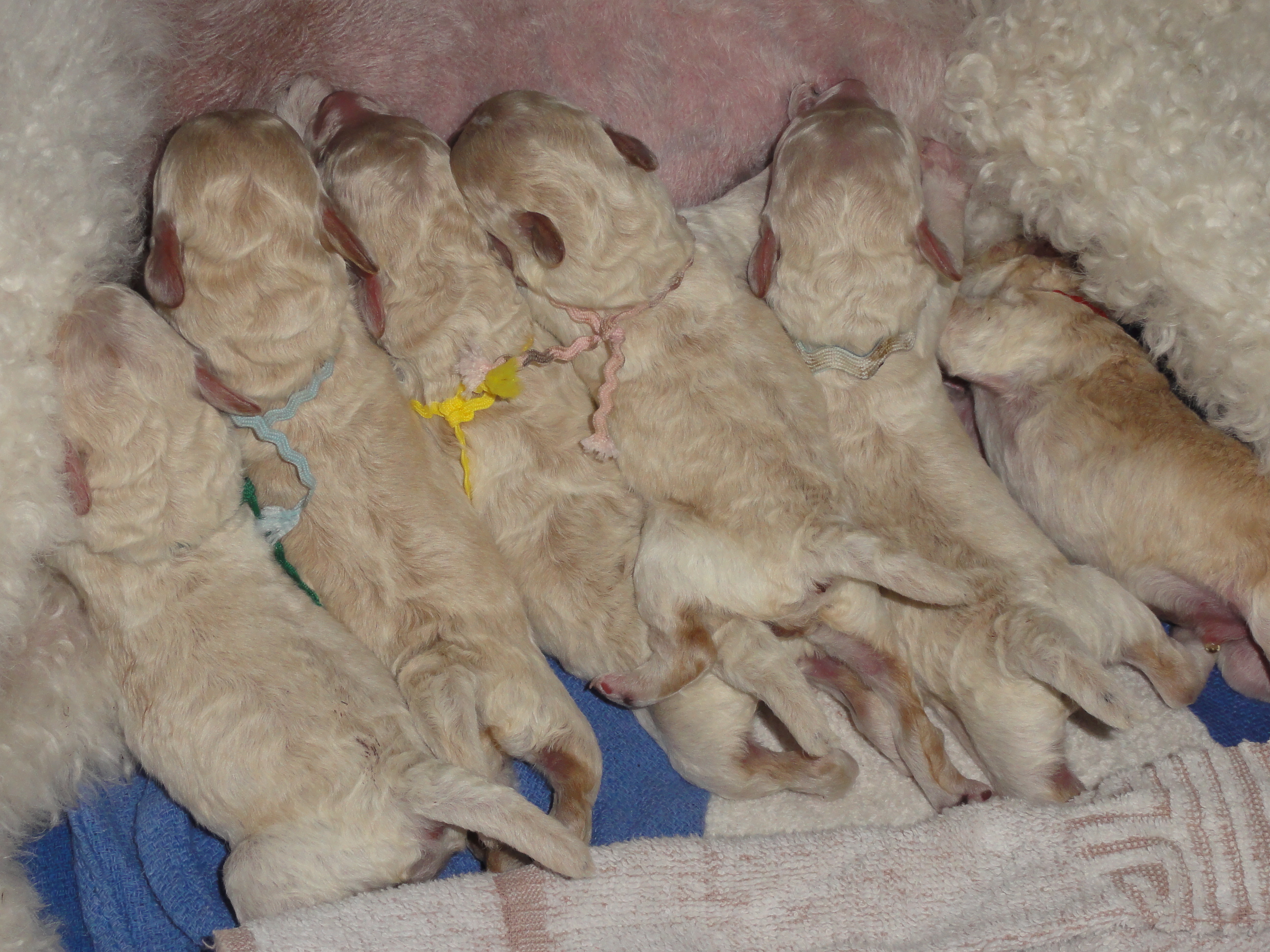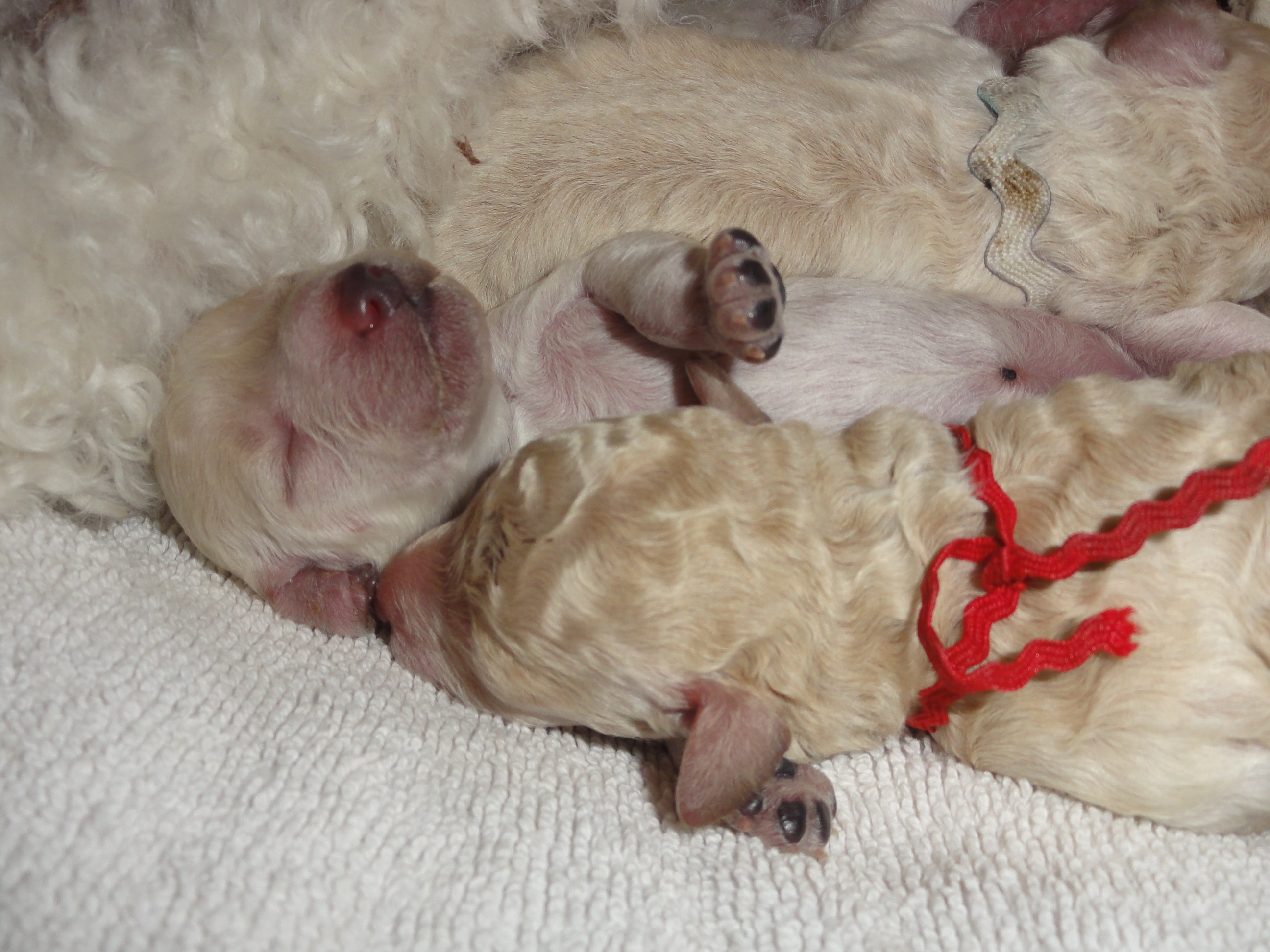 5 days old!!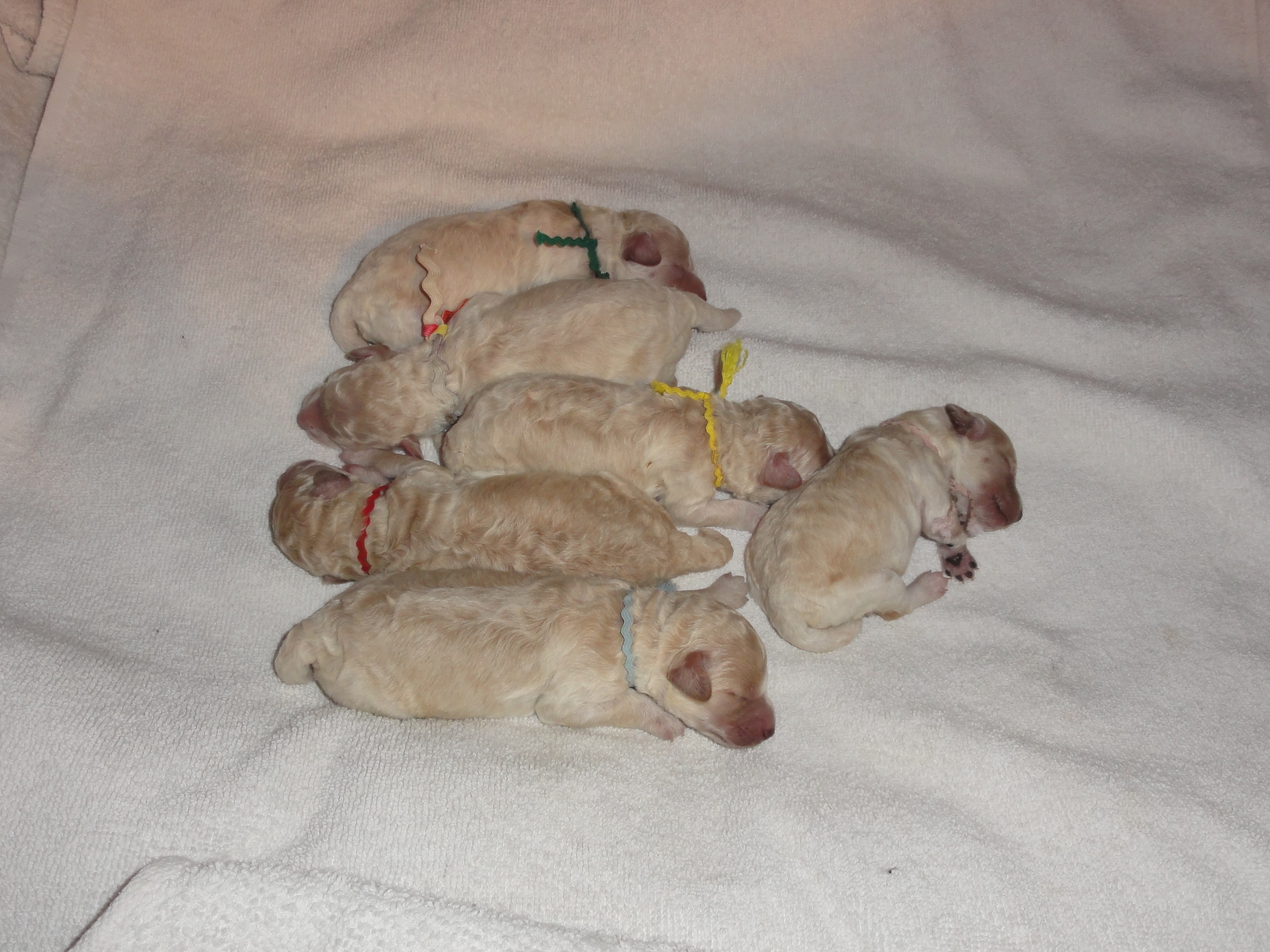 1 week old!!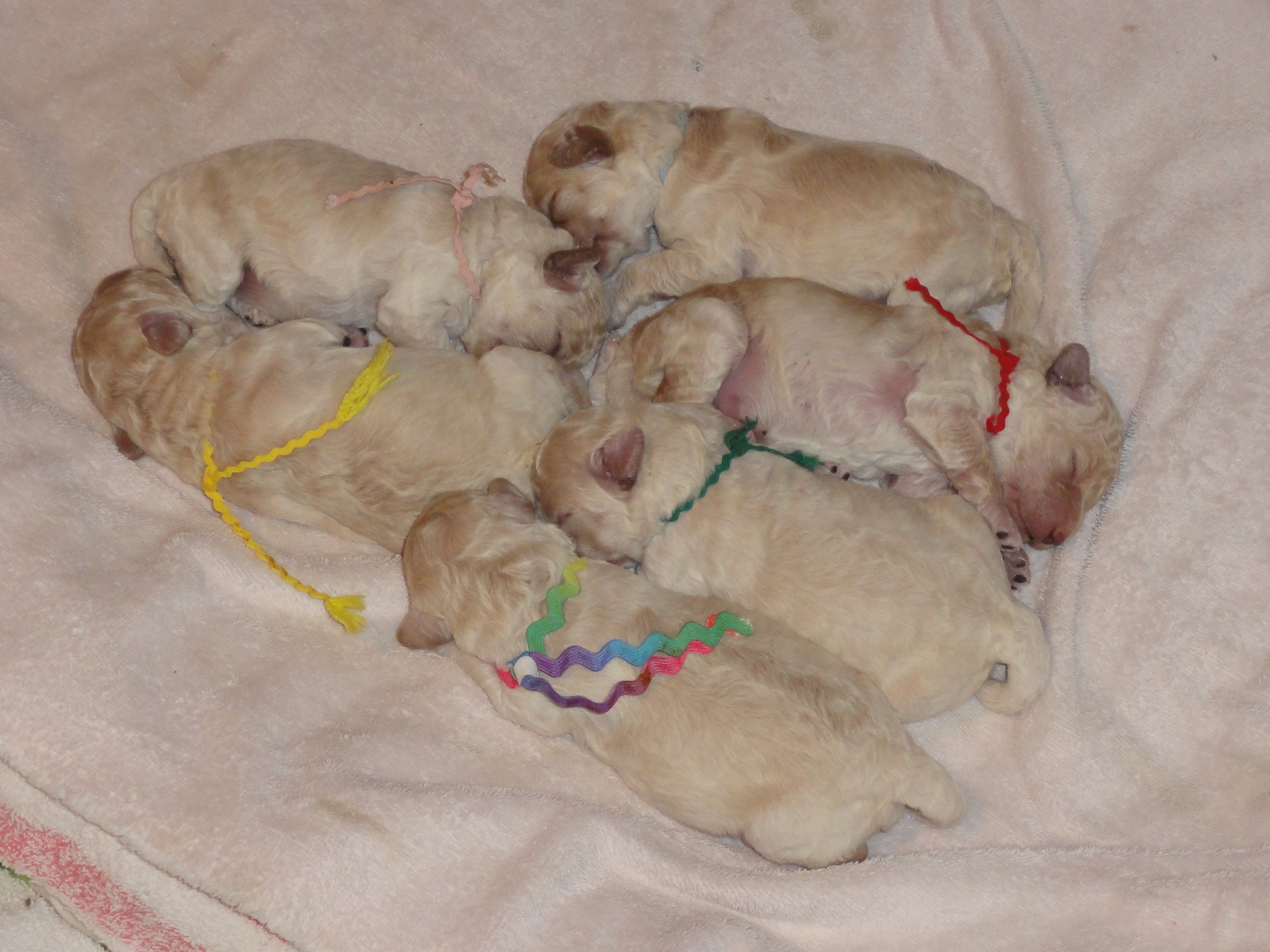 11 days and growing with full bellies!!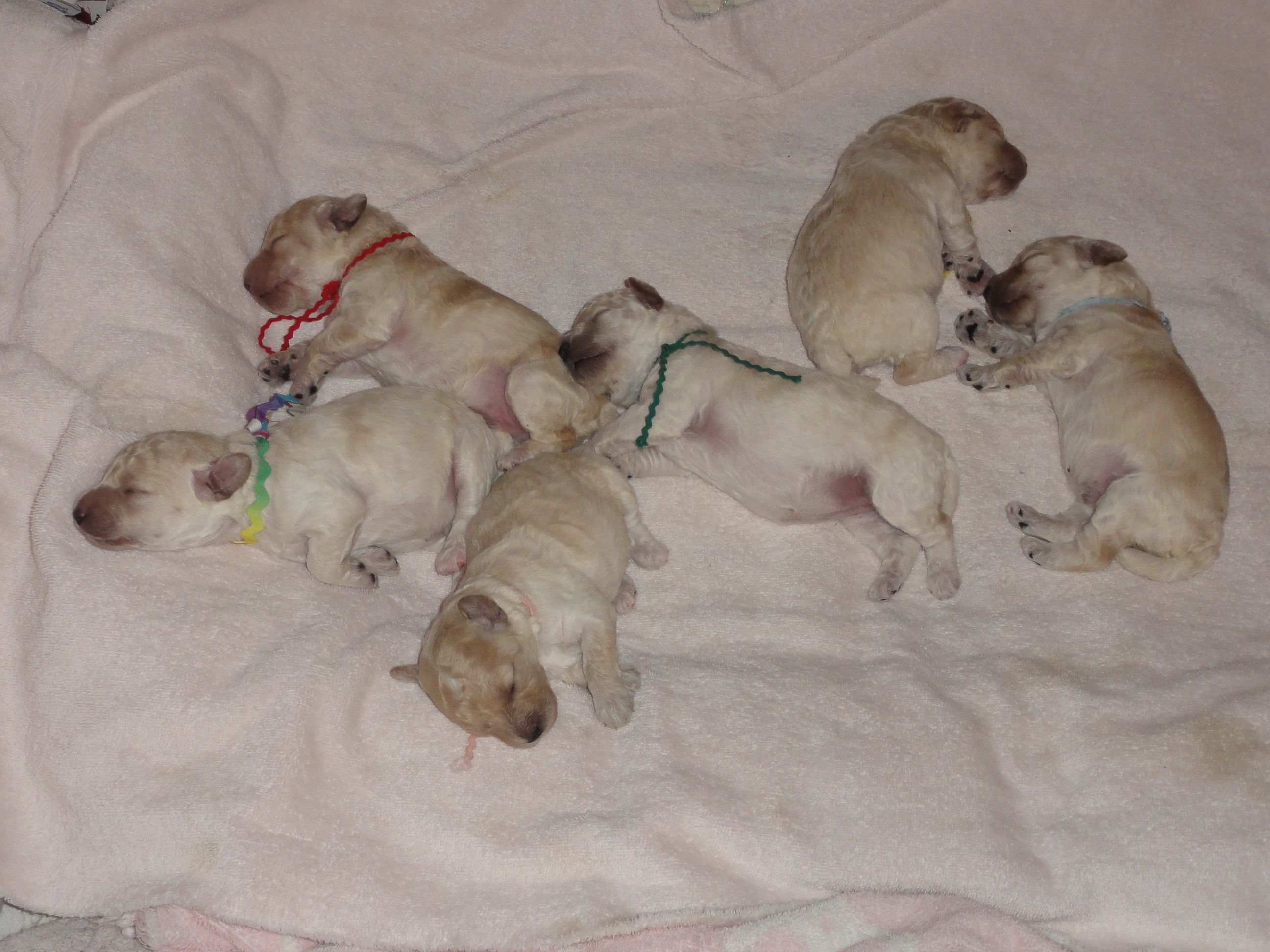 The girls~3 weeks!!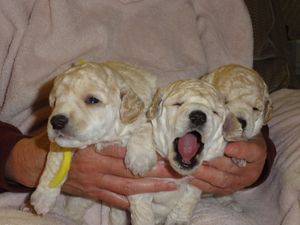 The boys~ 3 weeks!!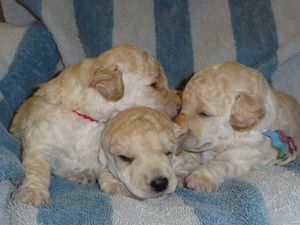 3 weeks old!!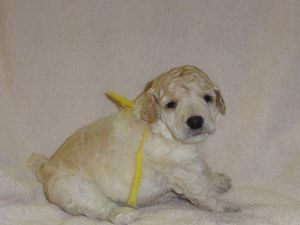 4 weeks!!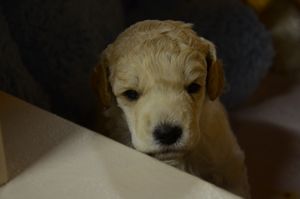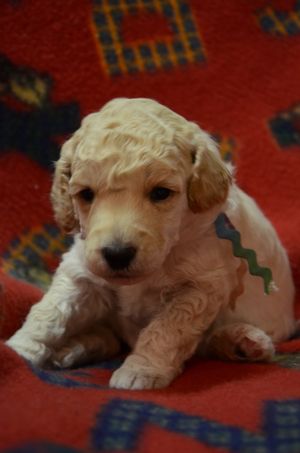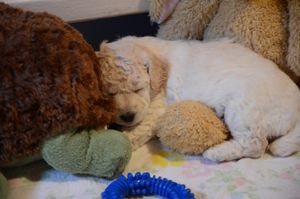 ____________________________________________________________________________
W
e produce puppies in whites, blacks and blues. When you purchase a Celeto Poodle, you become part of our extended family; and we are available to our families for the lifetime of our puppies. Should you ever have questions regarding diet, vaccinations, house breaking, crate training, grooming...anything we can assist with, we will! We are always interested in how our puppies are doing and love to receive updates and photos of our babies as they grow up; along with brags about their accomplishments and titles!! All of our puppies leave well-socialized, crate trained, introduced to potty training, fully groomed, vet-checked, all vaccinations appropriate for their age at delivery, dew claws removed and tails docked.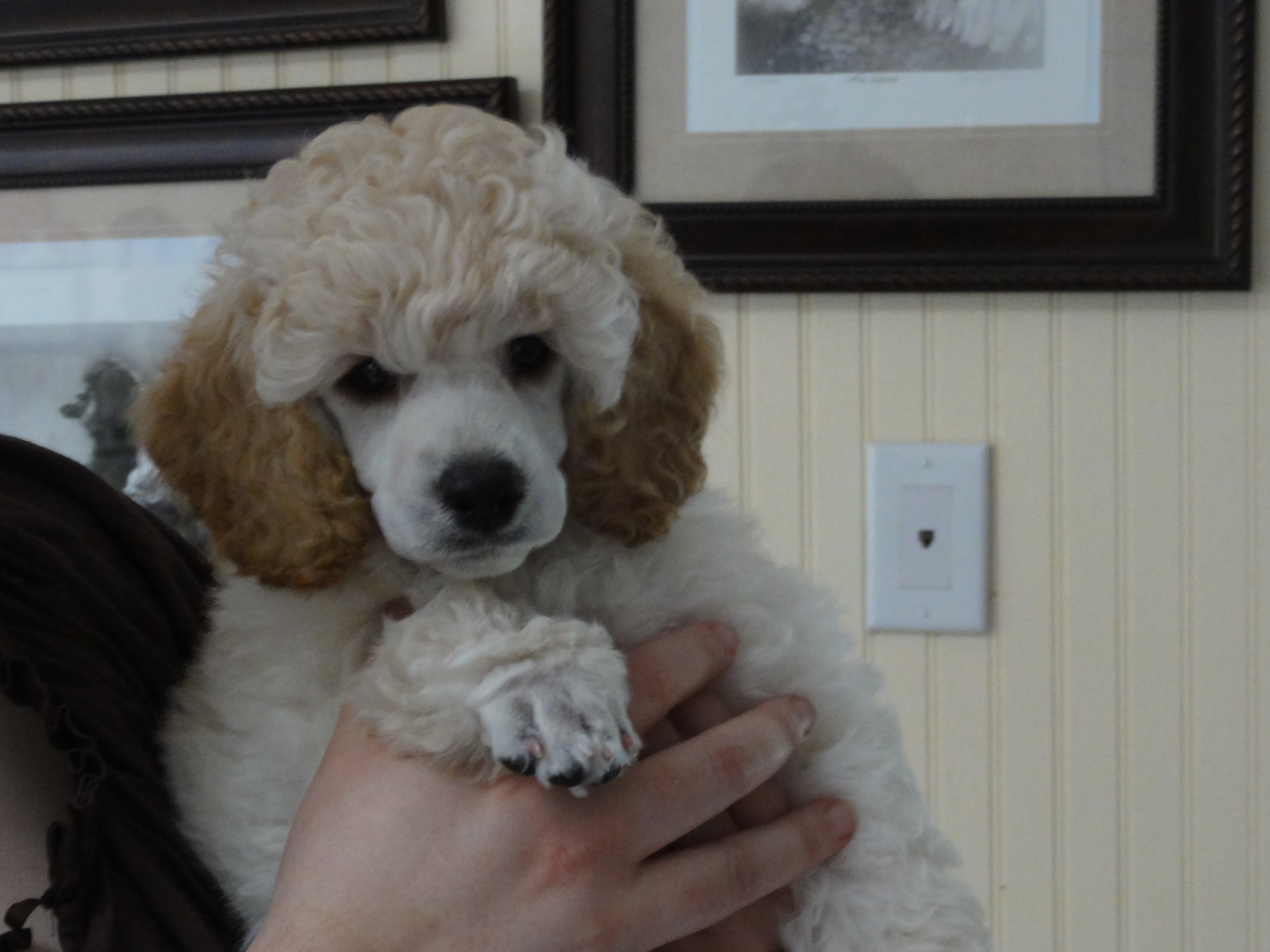 P
otential buyers are screened to help ensure a good match is made between the owner and new puppy; while also understanding the responsibility of owning a Celeto poodle. A non-refundable $500 deposit is required to hold a puppy; a separate agreement, signed at the time you pay in full and pick up your puppy, includes a 72-hour health guarantee and a 3-year genetic health guarantee.  All puppies sold as pets are sold on AKC spay/neuter contracts. We prefer that you personally accept delivery of your puppy, however if you need to fly here,our preference is for the puppy to fly with you in the cabin of the plane.  All travel expenses are in addition to the purchase price. We do not ship puppies.  Thank you to all of our wonderful families who have opened their hearts and homes to our puppies!!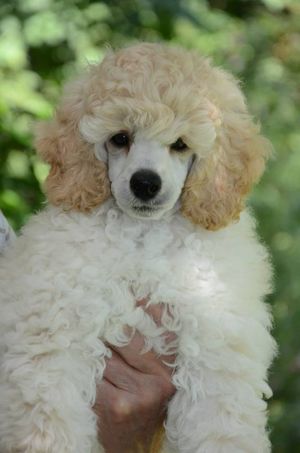 ---
C
eleto Standard & Miniature Poodle Puppies are beautiful, smart and have wonderful temperaments. They are fun, friendly, intelligent and make wonderful family companions. They also require grooming every six to eight weeks.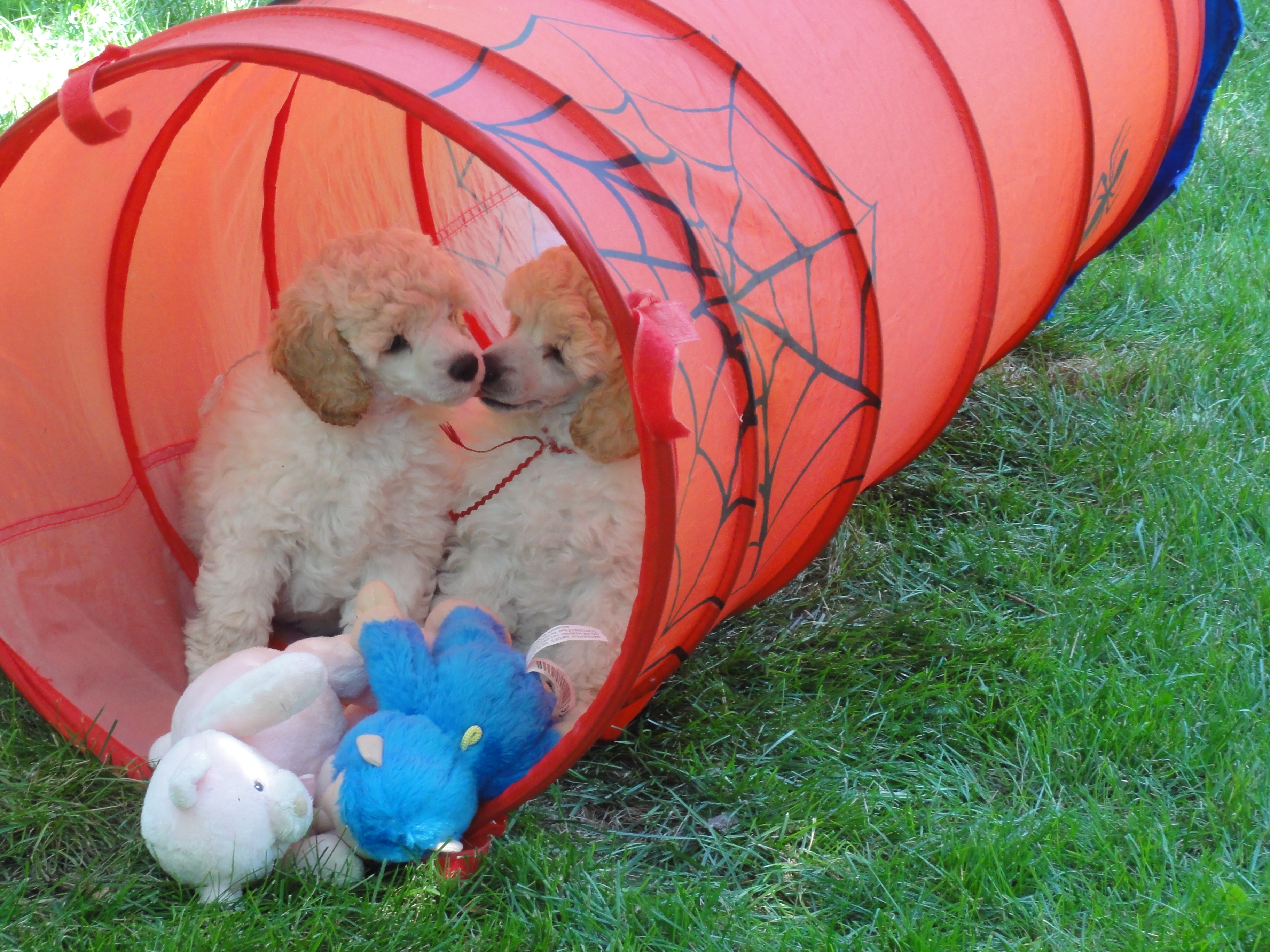 Preparing for taking your puppy home

We will do our best to make this transition as easy as possible for you and your new friend. We suggest picking up your puppy when you have a day or two free, to help him or her adjust to the new surroundings. Poodles are very adaptable and we feel confident your puppy's adjustment will be good.


Ways you can prepare to welcome your puppy home:
~Puppy proof the house~

~a Vari Kennel (type of dog crate) for crate training~

~you'll want lots of good puppy toys

(we recommend Bully sticks, chew toys

, and soft toys. Make sure the toys are indestructible, if not they can be a choking hazard. We do not recommend rawhide bones.~
~Leash & Collar  - we do NOT recommend retractable leashes~
 
~Stainless steel food and water dishes. One for food and one for water. If you have other pets, be sure to give the puppy it's own bowls to avoid conflict with other pets in your household~
 
~A puppy bed such as a crate with a crate pillow, a snuggle nest. Whatever you choose, make sure it is always soft, comfy, and dry.~
 
~Puppy treats. Make sure you get a variety: such as freeze dried beef or chicken liver, cut up hot dogs to very small pieces, small pieces of cheese, cut up chicken breast.~

~Dog food: We recommend a raw diet or high quality premium kibble with no corn, wheat or soy~

~Basic grooming tools such a pin brush,  greyhound comb, nail clippers, dog shampoo, and towels.~
WHAT WE PROVIDE YOU WITH
~Your beautiful puppy, of course!~
~A stuffed toy~
~All veterinary records, including vaccines given and testing completed~
~A copy of the pedigree of both Sire and Dam~
~A copy of your contract~
~AKC Registration Information~
~We will provide you with training, vaccine and nutrition information and support for the life of your puppy~
~ We love to stay in touch with our pups and their families through pictures, email and visits.~


IF YOU ARE DRIVING
We recommend you bring along your puppy's crate, with a towel or two inside.
If your driving a long distance, please bring a small bowl and a bottle of water, plastic bags and some paper towels.
---
~~~~~~~~~~~~~~~~~~~~~~~~~~~~~~~~~~~~~~~~~~~~~~~~~~~~~~~~~~~~~~~~~~~~~~~~~~~~~~~~~~~~~~~~~~~~~~~~~~~~~~~~~~~~~~~~~~~~~~~~~~~~~~
June 1, 2013 Litter
---
If any buyer is unable to keep or care for a puppy purchased for any reason, we want to be notified first and will gladly accept the return of your Celeto poodle for re-homing.
Please
Contact Us
for more information!
If we do not have puppies available we usually know other reputable breeder friends with puppies or puppies on the way, and are happy to refer! As responsible & ethical breeders of purebred Standard & Miniature Poodles, we do
NOT
support the cross-breeding of poodles to any other breed.
We are located in St. Charles, IllinoisJust a short drive from Chicago, Wisconsin, Iowa, Indiana & Southern Michigan.
Celeto Poodles
Liz & Jane Newby
St. Charles, IL.
U.S.A.
st_poodle@yahoo.com